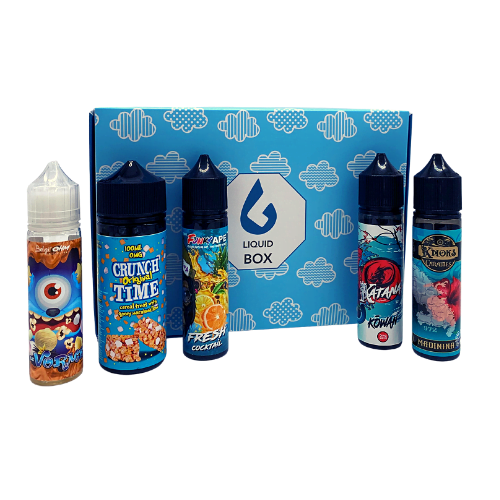 Can e liquids be mixed?
Yes, it is possible to mix e liquids. We advise you to follow certain recommendations and conditions of use for this type of product, to make sure that what you're about to vapourize is pleasant and tasty!
How do you mix e liquids?
Mixing e liquids couldn't be easier!
Use an empty bottle or vial: you can do your tests there. This will help you find the right blend for your daily needs. You can adjust at any time!
Shake the bottle or vial: this step ensures a homogenous result, much like when mixing a vinaigrette.
Prime the resistance: do this by pouring a few drops onto the cotton.
Fill your electronic cigarette,
Wait about 10 minutes.
In addition to these tips, we advise you to choose bases with identical PG/VG proportions. So, if you have two e liquids with a base of 50/50 each, it's ideal!
However, it's not impossible to mix two e liquids with different PG/VG ratios! Just make sure the proportions are equal, so as to obtain an average of the two.
What's more, you can mix two different e liquids from the same brand, just as you can mix two different e liquids from two different brands. The first solution simply makes it easier to obtain a homogeneous blend.
In any case, the best way to find out is to try and understand how to mix e liquids together!
Liquid E: what precautions should be taken when mixing them?
There's nothing complicated about mixing e liquids. However, it's important to take precautions if you're handling products with nicotine, as they are toxic if they come into contact with the skin or are ingested. Gloves and goggles are mandatory!
However, those without are far less aggressive. For acceptable, satisfactory results, use appropriate equipment such as vials, flasks, syringes or graduated pipettes. These accessories make mixing simple, clean and error-free. What's more, the bottles will ensure better preservation if you're making large quantities of liquids.
Before creating large volumes, think about doing some tests first. Don't hesitate to play chemist!
When to change e-liquid?
You can change your e-liquid whenever you like. If you're used to vaping the same thing every day, we understand that it can make you want to vary... So, for even more deliciousness, to satisfy your taste buds even more, and to heighten your senses, change the e liquids you're used to consuming.
What's more, now that you know how to mix e liquids together, you've got a whole host of possibilities open to you! Maybe you'll find an untapped combination, who knows?
Thanks to all the electronic cigarette products you can find on our site, any combination is possible. Between fruity, mentholated, gourmand and sweet flavors... Why settle for just two? It's perfectly possible to blend several e liquids together, so let your imagination run wild. Just be sure to shake your bottle well to ensure a consistent result.
Can you mix e liquids? Now you have the answer! Just be careful you don't bite off more than you can chew...