Our Liquidbox store supports vapoteurs in their vape experience by offering a variety of quality e-liquids, always at attractive prices!
With Liquidbox, save an average of 70% on your usual e-liquid purchasesand enjoy premium e liquids with exceptional flavours! 
Why order from Liquidbox?
At LiquidboxWe are committed to providing exceptional service to our vaping customers, which is why our team of professionals offers you high-quality products with always varied and original flavors, to best accompany you in your vaping experience. We also offer our vapoteurs the chance to enjoy a monthly box of e liquids, delivered straight to your door!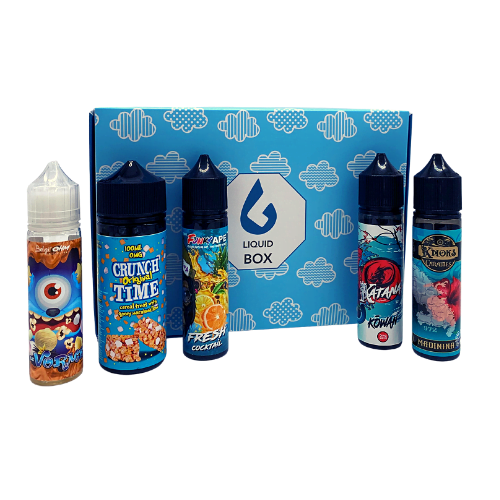 Our monthly e-liquid box concept
Our monthly e-liquid box concept sets us apart from other e-cigarette liquid sellers. It allows you to discover new products every monthWe take into account your tastes and preferences, which were previously submitted to our teams when you subscribed to the box. 
By filling in a form on our site, we will analyze your tastes and consumption habits in order to offer you the best possible service. the best and most suitable productsto offer you an ever more varied vape experience! 
Of course you can, our monthly e-liquid box is non-binding. You can cancel your subscription at any time, free of charge and with just one click from your account!
Premium-quality products
At Liquidbox, we're committed to offering high-quality products from well-known manufacturers. Since the health of our customers is one of our top priorities, we take care to go to test our products regularly to ensure they meet the highest standards. 
Our e-liquids include natural flavors or from the food industry to ensure healthy consumption. 
The premium quality of your electronic cigarette products is guaranteed by Liquidbox.
Cheap e liquids 
Our box concept allows us to offer you very attractive prices thanks to batch purchasing. With 50 mL e-liquid vials from top brands such as Belgi Ohm, Vapeur France, OJLab, Kapalina and many others, you benefit from large-format e-liquids at only 8 euros ( shipping included ) for an XL box. 
Our prices are simply unbeatable! 
Liquidbox ensures best value for money on the market. 
Exclusive electronic cigarette products
The electronic cigarette products we offer on our store are constantly renewed and finely selected with the aim of offering original, varied and exclusive e-liquids! 
Some of our ranges are created directly with major brands. 
Our latest collaboration is LiquidBox X Aromazon.
Who we are
Liquidbox is an online store created in 2014 offering e-liquids for electronic cigarettes for sale in boxes or by the unit. Our innovative concept This allows us to renew our products on a daily basis, constantly offering new products to our customers. It also enables us to offer you competitive prices all year round!
Thanks to our the most extensive catalog on the market and the hundreds of e-liquid references we offer, there's something for every taste and every smoking habit! 
We've helped thousands of consumers quit smoking for good. To date over 7,000 positive reviewsLiquidbox has become a trusted brand in the electronic cigarette liquid sector. Our team is here to support you every day, giving you the best possible advice to ensure you have the most enjoyable vape experience.  
With a growing reputation, Liquidbox is present on social networks and has been validated by numerous reviewers and influencers the electronic cigarette market, including BreakingVap and VapExtrême.  
How does delivery work at Liquidbox?
When you order from Liquidbox, you benefit from fast, secure delivery. Our teams will prepare your box by 24 business hoursThis gives them the time to carefully select your products, box them and ensure their protection. All this, with fast shipping to get them to you in no time!
In our store, you can choose between different delivery methodsThe choice is yours: delivery by Colissimo, recorded delivery or Pickup.
Don't wait any longer and fill in our online form to take advantage of a personalized box of e liquids, adapted to your tastes and your vape habits!